"If There Is Ever A Time For Action, It Is Now"
A "perfect storm" of high interest rates and cost pressures has led to the lowest number of new condo units being sold in the GTA in 23 years, according to the Building Industry and Land Development Association (BILD), with fewer projects coming to market when they're most needed.
"We are really in a period of a pause or a slowdown in the market where you're seeing historically low sales at a time when, as we all know, we need more housing," said Dave Wilkes, BILD president and CEO.
The analysis from Altus Group, provided in advance to the Star, comes as the high costs of housing tops the political agenda. Prime Minister Justin Trudeau gathered cabinet minsters in P.E.I. Monday to discuss the issue, the same day Premier Doug Ford pledged $1.2 billion to municipalities to help them meet housing targets, with all levels of government trying to rein in a crisis that's seen soaring mortgage costs, home prices and rents make housing unaffordable for many Canadians. Ford has said 1.5 million new homes are needed by 2031.
There were 1,190 new home sales in the GTA in July, down 18 per cent from July 2022 and 50 per cent below the 10-year average, according to BILD. Condo apartment units made up 828 of those sales, down 39 per cent from July of last year and 50 per cent below the 10-year average.
Single-family home sales, at 362, were up from just 95 this time last year, when interest rates were also rising, but 51 per cent below the 10-year average.
"We really do have a perfect storm here where interest rates have dampened demand and made building more expensive in the homebuilding and development community, at the same time as cost pressures are increasing," Wilkes said.
In an effort to tame rising inflation, the Bank of Canada hiked interest rates from historical lows at the height of the pandemic eight times, paused this spring, and then raised them twice more. The overnight interest rate now sits at five per cent. Wilkes said sales returned during the spring pause, but are now being impacted once again by higher rates.
At the same time, prices have softened, with the benchmark price for new condos at about $1.085 million in July, down 9 per cent over last year; the benchmark price for new single-family homes is down 13.5 per cent over the same period to roughly $1.674 million.
Remaining inventory, defined as units in completed, pre-construction and under construction projects, rose slightly to 16,683 — a number Wilkes had expected to be higher.
"Interest rates are also impacting just the ability to bring projects to market," he said. "And so therefore it's affecting both sales and inventory."
In order to get financing and move forward, there's usually a requirement that around 80 per cent of the units in a project be sold in pre-construction, he said. But as interest rates increase, fewer people are buying at that stage, affecting the ability of buildings to get to market.
Experts have previously suggested to the Star that low supply, of both houses and purpose-built rentals, is a big factor fuelling home prices. Even in wider GTA communities such as Milton, a tight rental supply is resulting in fierce competition for affordable units.
While some housing advocates would like to see public entities build rental housing themselves, Wilkes said governments have the tools to better incentivize developers, especially at the federal level.
This includes deferring HST on purpose-built rentals so that developers will be more motivated to build them. As well, he said both the federal government and the province should work together to help municipalities with the cost of infrastructure for new housing, such as sewers and roads.
"Now is the time in my opinion for governments to continue to step up," he said.
Both Trudeau and Ford have been under pressure to help ease the housing crisis. Ford has been reeling from a harsh auditor general's report that criticized his government for removing 7,400 acres of Greenbelt land in a process that "favoured certain developers," and federal Conservative Leader Pierre Poilievre has made housing a key plank of his criticism of Trudeau, blaming him for high costs.
"There are levers that can be pulled and now is the time to pull them," Wilkes said.
"This is a complex issue, it's a situation that took us decades to get into, that there is no silver bullet, but there is opportunity to act, and if there is ever a time for action, it is now."
"Key Issue: The Federal Government Tries to Download the Housing Crisis"
Canada's Prime Minister Justin Trudeau was in Hamilton earlier this month to announce that the federal government was investing $45 million to build and repair 214 homes in the region. 
Considering that Canada needs to build 3.5 million additional homes before 2030 in order to restore housing affordability, it's surprising that our federal government felt like this tiniest of investments in housing deserved a press conference with our Prime Minister. 
But the Prime Minister did make the most of the opportunity by laying out his government's latest views regarding Canada's housing crisis when he said:
"I'll be blunt as well – housing isn't a primary federal responsibility. It's not something that we have direct carriage of. But it's something we can and must help with."
The Prime Minister's comments are deeply problematic for a number of reasons. 
While the provinces and municipalities have far more control over the supply of housing through provincial planning and municipal zoning, the federal government controls virtually every aspect of the demand for housing. Federal agencies, including the Office of the Superintendent of Financial Institutions (OSFI) and Canada Mortgage and Housing Corporation (CMHC), control the mortgage underwriting guidelines for mortgages in Canada. Federally backed mortgage insurance is what enables first-time buyers to buy a home with less than a 20% down payment. 
Perhaps most importantly, the federal government also controls Canada's population growth rate, which directly impacts the demand for housing in Canada. The fact that Canada's population is growing far more rapidly than our ability to build homes is one of the primary factors behind Canada's housing crisis. This is something I discussed in last month's report. 
As highlighted by Move Smartly editor Urmi Desai during our August 2023 Real Estate Roundtable, the Prime Minister's change in his communication strategy is important because it signals the federal government's desire to download the blame for Canada's housing crisis to the provinces, most of which are led by conservative premiers. 
This is a strategy that mirrors the approach of Conservative leader Pierre Pollievre. But instead of blaming Conservative premiers for Canada's housing crisis, Pollievre is blaming municipal "gatekeepers." 
Both federal leaders continue to ignore the federal government's important role in driving the demand for housing in Canada. Economist Mike Moffatt posted an important question on Twitter last month. 
Our federal government continues to increase the number of study visas they issue each year, even though they know we don't have adequate housing for these students because housing is not a "primary responsibility of our federal government." 
While our Prime Minister thinks this is an acceptable response, I know many Canadians, foreign students and workers  who are experiencing this housing crisis first-hand disagree. 
"Toronto Real Estate Prices Plunge Over $20,000, Now A Buyer's Market"
Greater Toronto real estate prices are suddenly back to correcting, despite a mini-boom. Toronto Regional Real Estate Board (TRREB) data shows home prices fell in July. Rising interest rates are the first thought, but home sales are still climbing. Home buyers just aren't able to keep up with sellers—new listings are climbing much faster than sales.
Greater Toronto real estate prices are back to falling, following a brief run. The price of TRREB's seasonally adjusted benchmark, or typical, home fell 2.2% (-$26,000) to $1,158,000 in July. Unadjusted annual growth was positive for the first time in months, showing a 1.3% increase. However, it confirmed lower prices in the month. Annual growth only printed a gain due to a base effect, with prices making a smaller drop in July 2023 than July 2022.
Average prices produced a similar trend. The seasonally adjusted average sale price fell 1.8% (-$20,300) to $1,106,000 in July. Average sale prices can be more volatile due to a change in composition, unlike the benchmark. However, recent changes to the benchmark has at least one prominent analyst preferring the average. Historically, the gap between the benchmark and average sounds bigger than reality.
One would assume higher interest rates took a bite out of sales, helping to push prices lower. Not the case, with sales actually increasing 7.8% from last year to reach 5,300 homes in July. It was actually the 11.5% surge in new listings, hitting 13,700 homes, that most likely did it. Homes are selling at a higher volume, but so are the number of people listing their home for sale. 
The sales to new listings ratio (SNLR) shows there's a glut of inventory for these prices. The ratio fell to just 38% in July, below the threshold of a balanced market (between 40-and-60%). By definition, this is now a buyer's market. That doesn't mean buyers are going ham, but they're in control of the incentive. If the market maintains this ratio, analysts generally expect home prices to fall.
Surprisingly, the SNLR is even lower than last year, when price drops were even sharper. However, the market doesn't seem to be triggering the same type of discussion this time around. It's an interesting change in sentiment, potentially indicating buyers piling into falling prices see it as temporary. That can be a problem for the Bank of Canada (BoC) down the road, but that's another article. Worth mentioning, though!
Rising interest rates are certainly playing a role in this market, but not the one most expect. Rising rates typically cool home sales, but home sales are climbing compared to last year. By rates limiting budgets, home prices have had to come down to keep sales and inventory flowing. Most sellers are unlikely to be opposed to a mild pullback, following sharp gains for two decades. 
The most interesting impact is how rising rates are helping to shape inventory. It would be uncharacteristic for a surge of homeowners to upgrade with rising rates. Yet, there's suddenly a lot more sellers looking to unload property. This may be a reflection of Canada's investor-dominated real estate market. 
Investors are looking at stalling home price growth, with bond yields higher than rental yields. It's impossible to determine if the sellers are investors with the current data, but shifting incentives tend to shift investor activity.
TORONTO REAL ESTATE MARKET REPORT
SALES COMMENTARY
Sales for July were 5,250 on TRREB which are weak. They are 29% lower than for June (but 8% higher than July of last year). What to take away from these numbers? Not much. August sales are usually higher than for July. When we look at daily showings both on TRREB, and for our own Brokerages, the monthly changes from July to August are almost the same. This is an indication that sales are not picking up. That's because both buyers and sellers are waiting for the next Bank of Canada and Federal Reserve interest rate announcements in September. Until then they are sitting on their hands.
The saving grace for sellers has been a lack of listings, which has created a market balance and kept prices level. But the sales-to-new listings ratio is dropping. For the overall market it now sits at 38%. Forthe Downtown condo market, it is at 30%. These figures confirm what we said last month: we are well into a BUYERS' MARKET. Prices are weakening.
We have always maintained that you can never time the market. Real estate is a long-term investment and those who try to 'flip' will always lose eventually. If you must sell, do it in September or wait until next year when interest rates will be lower or at least stable, which will encourage more buyers to enter the market.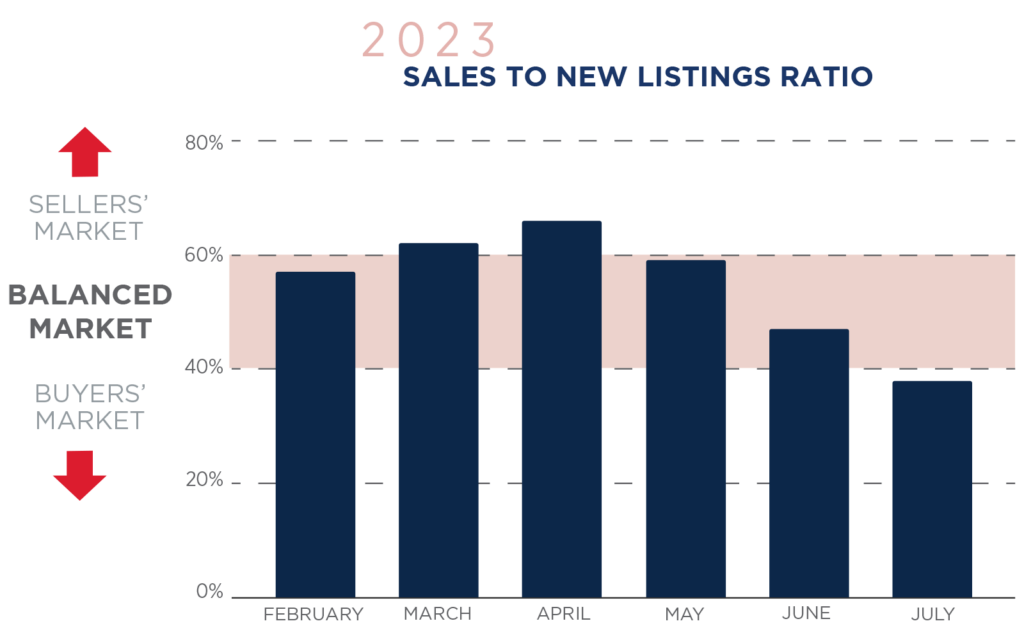 This Chart plots the Sales-To-New Listings Ratio by Month for the first half of 2023. A Balanced Market is when the Sales-ToNew Listings Ratio is between 40%-60%. Below 40% indicates a Buyers' Market and above 60% indicates a Sellers' market. Graph Source: Toronto Regional Real Estate Board.
THE PRE-CONSTRUCTION MARKET AND ASSIGNMENTS
In our last Report we talked about pre-construction prices in Toronto that were in the $1400 psf. range which has reduced new construction launches. With the resale market at just under $1,000 psf. the price gap is still too large. Now pre-construction buyers from 2018 and later are being asked to close on their purchase. Many can't get financing and are just trying to recover their deposits. An assignment on Church is listed at $70,000 below the original purchase price. The problem is that they are still asking $1200 psf. Two more properties on Peter Street are asking $1130 and $1160 psf.
Another assignment in Mississauga is listed for the original purchase price at $950 psf. The resale market is $800.
Sellers need to realize that pricing to recover your deposits is not the answer to selling. You need to price at market! If buyers remain patient, there are some excellent opportunities before the end of the year. 
GTA AVERAGE PRICE PSF FOR NEW CONDO APARTMENTS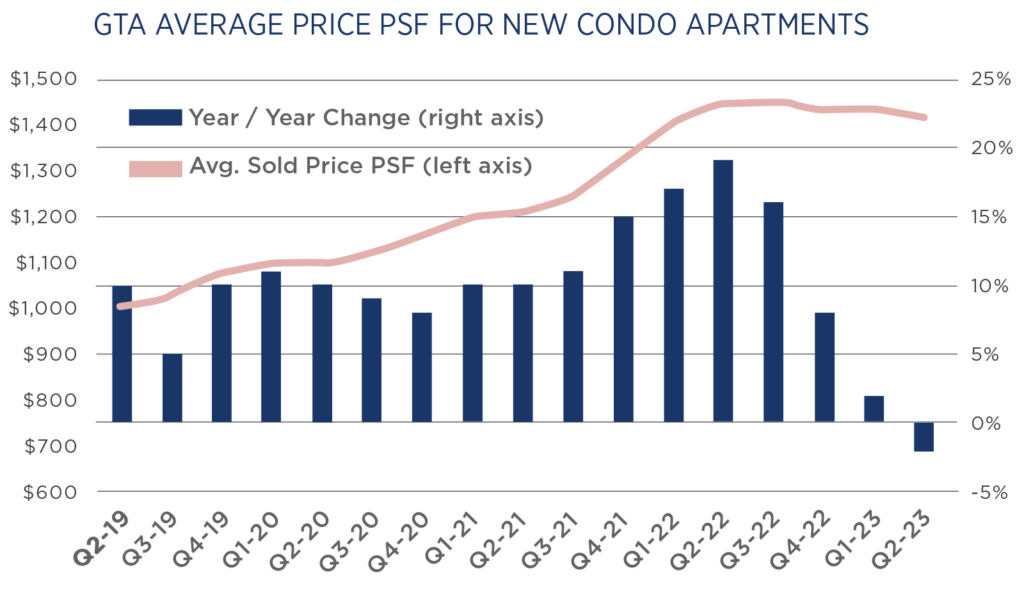 RENTAL COMMENTARY
In July over 2900 condos were leased in the Downtown and Humber Bay markets. This was the highest monthly total for the year, which reflects students looking for accommodation for the start of the school year. The peak for the rental market is either July or August, so we will see. By month end there were just 1700 available units for rent.
Never have we experienced the number of multiple offers for rentals. Not just one or two bids per property but 8 to10. We are seeing tenants prepared to pay 12 months up front, not being successful.
Rental prices moved higher by 3% on average in just one month. The sold/leased price was 101% of the List price across all bedroom types. The table below represents average rents by bedroom type. Extras for parking ($300) and a second bathroom ($500) need to be taken into account.