"Where are homes selling the fastest in Ontario?"
Real estate in Ontario is bouncing back following an interest rate-induced slowdown, and homes are once again selling fast.
New data from Zoocasa shows the real estate markets in London, Ont., and Ajax were the most competitive in June, with homes selling after 11 days on average in those cities, while it took about a month from homes in Caledon and Niagara Falls to sell.
In Toronto, homes sold within 20 days on average, while homes in Hamilton and Mississauga took on average 19 days.
The results are significantly quicker than the start of the year, when the shortest average time to sell was Waterloo's 25 days and some regions had a 60-day average.
"Much of this resurgence is due to the stability in mortgage rates we saw in spring," Daniel Crook of Zoocasa wrote in a blog post. "Interest rate hikes had paused until June, giving buyers encouragement to step into a more certain market."
Zoocasa also points the continued short supply of homes for the quick selling rates, which leave buyers competing for fewer options.
"Canadian Mortgage Borrowing Is Showing Nearly Zero Real Growth"
Higher interest rates did something even a pandemic couldn't—it slowed Canadian mortgage borrowing. Bank of Canada (BoC) data shows that mortgage credit continues to decelerate in May. When inflation is factored in, mortgage credit growth falls to a level rarely seen in Canada.
Canadian mortgage debt is rising, but at a much slower-than-normal pace. The outstanding balance of mortgage credit climbed to $2.1 trillion in May, a 4.4% increase from last year. It was the slowest growth since 2019, and a growth rate typically not seen outside of recession. 
Nominal growth may be similar to 2019, but inflation makes the current environment very different. Real, or inflation-adjusted, annual growth over the same period was just 1.0% in May. Not quite zero, but only slightly higher than April (+0.7%), which has been the closest to zero since the early 2000s recession.
"Housing Market Resurgence Leads To Better Economic Growth In Some Provinces, But Slowdown Still To Come"
Following an unexpectedly frenzied spring housing market, some provinces will be spared from the impending economic slowdown. At least, for now.
The "relative strength" of the rebound has led Marc Desormeaux and Hélène Bégin, Principal Economists at Desjardins, to alter their economic forecasts for some provinces and push the start of the downturn to 2024.
After the Bank of Canada (BoC) temporarily paused interest rate hikes, most provinces experienced an uptick in sales activity. But in Ontario and British Columbia — where affordability is already stretched — the "robustness of gains…has been striking."
As such, the economic forecasts for the two housing-oriented provinces have been revised significantly higher, with Ontario and BC expected to see real GDP grow by 1.6% and 1.5%, respectively, in 2023.
Meanwhile, the less severe market downturn seen in Quebec over the last several years has been followed by a similarly less pronounced bounce back, leading Desormeaux and Bégin to believe the province will experience more modest real GDP growth of 0.4% this year.
Oil-producing regions, like Alberta and Saskatchewan, are still expected to fare the best, with the economists predicting annual real GDP growth of 2.9% and 2.8% for the provinces, respectively, in 2023.
All provinces have experienced economic expansion thus far in 2023 due to soaring population growth, but the source of newcomers will have an effect on the province's growth rankings.
Ontario and BC have welcomed a record number of non-permanent residents, but if the economy slows, then the number of temporary foreign workers admitted to Canada could fall.
In contrast, population growth in Alberta and the Maritimes has been driven not just by non-permanent residents, but by international immigration and interprovincial migration, too. Partly the result of the regions' affordable home prices, the growth is more likely to be sustained.
While the boisterous housing market and increased population growth have aided the economic outlook for 2023, they have not prevented a downturn, Desormeaux and Bégin warn. Rather, they have just delayed it until 2024.
"Monetary policy works with a lag, and all regions should increasingly feel the dampening impacts of sharply higher interest rates in the coming months," the economists said.
"As we approach 2024, more housing‐oriented provincial economies should see the more significant slowdowns we've long been expecting."
Cracks are already beginning to show, particularly in Ontario and BC. After the BoC began hiking interest rates again in June, the largest housing markets in both provinces — Toronto and Vancouver — saw sales slow.
Desormeaux and Bégin expect the imminent economic slowdown to result in real GDP growth of 0.1% in Ontario, 0.2% in British Columbia, and 0.3% in Quebec in 2024.
Meanwhile, Newfoundland and Labrador will lead the economy on a national basis, with real GDP predicted to grow 1.1% in 2024. Alberta and Saskatchewan will follow, with real GDP expected to grow 1.0% and 0.9%, respectively, next year.
TORONTO REAL ESTATE MARKET REPORT
SALES COMMENTARY
Sales on the Toronto Regional Real Estate Board were 7481 in June. We are supposed to be excited that they were 16% higher than June of 2022. But they were also down 17% from May. In fact, June sales are lower than the previous 4 years.
At the mid-point of the year, we are now forecasting 73,000 sales for the year. This is based on the historical fact that the first 6 months usually account for 53% of the year's sales. If we only reach this number, sales will be the lowest since 2002. To make matters worse, the market served by TRREB is considerable larger today than in 2002. That means comparable sales are even lower.
What has been saving real estate prices is the lack of listings. But as sales have slowed, we are seeing more listings coming to market. Yes, owners are always a month late. For June the sale-to-new listing ratio was at 47%. From February through to May, the numbers were: 57%, 62%, 66%, and 59%. At 47%, with a chance to go lower over the summer, expect to reach a 'buyers' market' and flat to lower prices. The market will only pick up when the Bank of Canada signals that there will be no more rate increases in this business cycle.
THE MYTH ABOUT AVERAGE PRICES
Do you ever wonder why monthly average prices are higher in the spring than the fall? See the graph below over the last four years. The answer is not that prices are falling but just that the mix of sales changes over the year. In the spring more expensive properties sell than in the fall. These properties are usually detached and are owned by older families who are moving at the end of the school year. Single people and couples tend to move more uniformly through out the year. Young people moving tend to predominate at the end of the year.
TORONTO MLS® AVERAGE PRICE

THE CONDO MARKET
There is currently a disconnect between pre-construction and the resale condo prices. Pre-construction always commands a premium (never lived in, new features, etc.) But how big a premium should there be? If the premium is less than $100 psf, then most buyers opt for pre-construction. Unfortunately, the gap in Toronto itself is $400 psf. That is why most of the new projects are in the 905 and in smaller towns such as Brantford, Niagara Falls, and even Woodstock. There you can buy for under a $1,000 psf which is what the resale price is in Toronto. The problem with these smaller markets is: can you find local buyers/end users at these prices when it comes time to resell? Or can you find renters at $2500 per month? The answers will come in 3 years.
Currently we are seeing many buyers of pre-construction units from 3 and 4 years ago unable to get a mortgage and hence close today. These buyers are then forced into the Assignment Market – selling a property before it is registered. Assignments are hard to market, and the paperwork can be more complicated than just a regular resale. At the outset, many of these buyers, now forced to sell, set unrealistic listing prices. When the closing date gets under 30 days, these buyers become desperate to recover some or most of their deposits. This is when the best deals can be found. But you need to work with an agent who knows this market.
TORONTO MLS® SALES
WITH THREE PREVIOUS YEARS FOR COMPARISON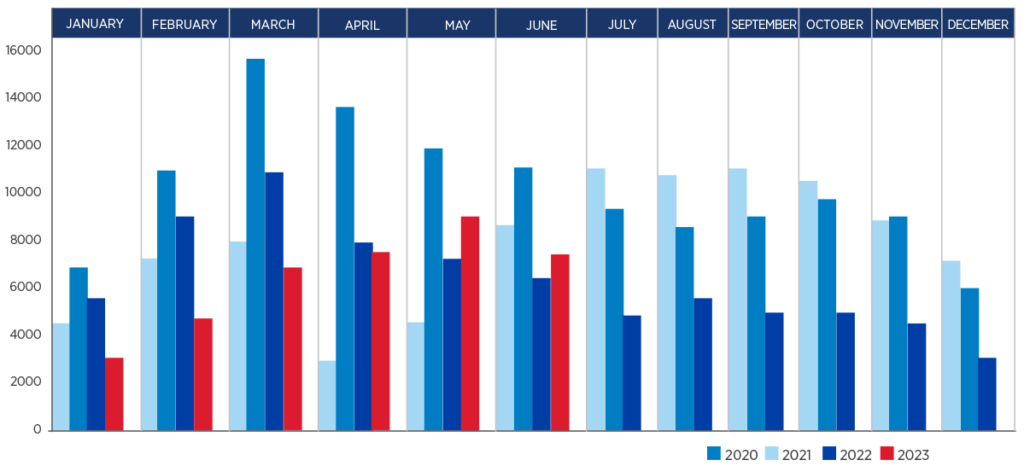 Source: Toronto Regional Real Estate Board
RENTAL COMMENTARY
In June almost 2400 condos were leased versus 2200 in May for the Downtown and Humber Bay markets. The peak for the rental market should come in either July or August. In comparison, the sales peak for the year was in May.
When the Federal Government encouraged record immigration (one million plus), and when you have a law that only permanent residents and citizens can buy residential real estate in Toronto, there is only one market left – renting. We are starting to see these new immigrants pay anywhere from 6-12 months rent in advance to secure a unit. Blame this on your Government.
Rental prices moved higher for small units this month. Bigger units were unchanged in rent from May. The table below represents average rents by bedroom types, but extras for parking ($300) and a second bathroom ($500) need to be taken into account.