Market Overview
On Wednesday April 12, 2023, the Bank of Canada declared that it was keeping interest rates unchanged. This is the second meeting where the BOC confirmed they will hold the line. In tandem, growth projections for Canada were upgraded, increasing the chances of a soft landing, rather than a broad and hard hitting recession. The BOC has heard the market, especially in light of the recent global bank turmoil, and is prepared to wait and see how inflation tempers at current rates. The key seems to be: can the economy continue to grow faster than expected without pushing inflation up. With increased immigration, the answer may be, "Yes".
While maintaining interest rates at their current rates will certainly put some financial pressure on landlords with variable rate mortgages. We do not see this as being a significant broader market risk and we anticipate market improvements in later 2023 for these reasons:
Canadian Banks have been flexible with their borrowers in an effort to avoid broad defaults on mortgages. Banks traditionally do not want to own or operate real estate.
In practical terms, if landlords are forced to sell property, that forces tenants to vacate properties, which in turn reduces the supply of rental units on the market, increasing demand. In response, rental rates in the City of Toronto will escalate. Alternatively, those same renters may become buyers of real estate if rental rates are sufficiently high, which would further put upwards pricing pressure on real estate in the GTA.
Canada set a new immigration record in 2022 with more than 430,000 permanent residents arriving. This is only a portion of the number of immigrants that entered Canada in 2022. Canada is the fastest-growing G7 country and saw population growth over 1.05 million people in 2022, almost entirely due to immigration and temporary residents.
The number of properties listed for sale in March of this year was at the lowest it has been in approximately 20 years. The longer there is a reduced supply in the market, the more pressure there will be for real estate prices to rise, despite the higher interest rate environment in which we find ourselves.
Certainly, the world could change and there could be a significant amount of supply that reaches the real estate market at one time. However, given the population growth and the already problematic imbalance of supply to demand in housing, it seems unlikely that the GTA's real estate market will suffer in the long term and if early indicators are correct, we may see price escalation towards the end of 2023 with interest rates moderating in 2024.
TORONTO REAL ESTATE MARKET REPORT
SALES COMMENTARY
There were 6896 sales in March on The Toronto Regional Real Estate Board. The month-to-month increase was 45% versus just 20% in 2022. This confirmed what we said at the start of the year. Sales had bottomed out in January and the monthly market peak would exceed 7500 sales. Only 10% of respondents agreed with this forecast. Most said sales would peak at just 5,000. It now looks like the monthly peak will exceed 8,000 units. So what is slowing sales growth? It is not a lack of buyers but a lack of new listings. Prices also began to increase in February (the price bottom) and by mid-April were up about 3%. Price increases can be attributed to two factors. First, new listings are at 10-year lows. Secondly, we have seen the Bank of Canada pause rate increases for the second time. We have always maintained that 'rate certainty' is just as important as the actual level of rates. Given time, consumers can adjust. We had strong sales and price growth in the eighties with much higher mortgage rate levels than the 4.5% to 5.5% today. By May, you will see year-over-year monthly increases in sales. By June, you will see year-over-year increases in real estate prices. What will we talk about then?
TORONTO AVERAGE CONDO PRICES – DOWNTOWN VS HUMBER BAY SHORES
This month we compared average condo prices for Downtown versus Humber Bay. While average prices are lower in Humber Bay, here is what you need to know. Humber Bay units are larger and most have parking included. Outdoor space is better too. The drawback is poor public transportation to Downtown. With real estate there are always trade offs.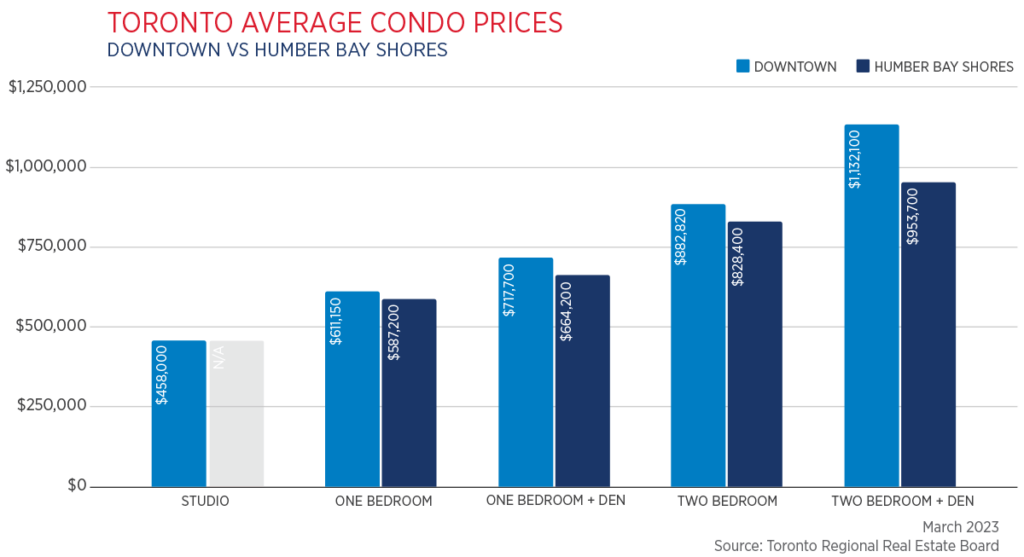 TRREB MLS® NEW LISTINGS MONTHLY WITH 3 PREVIOUS YEARS FOR COMPARISON
The below chart plots Monthly MLS® New Listings for the current year and the previous three years. The recurring seasonal
trend can be examined along with comparisons to previous years for each month
RENTAL COMMENTARY
Our commentary is focused on just the Downtown and Humber Bay markets for rentals. In February there were just under 1400 units leased. For March, 2061 units were leased – an increase of 51%. This increase signifies the real start to the 2023 rental market. The good news for potential tenants is that there are still over 1800 units available for lease, and more are coming. As well, rental rates have started to plateau after rising by over 10% in the last year. Landlords are particularly aware about incomes of tenants and what they can afford to pay.