January sales on TRREB were down 18% from January a year ago, this was not unexpected. New listings were also down by 16%, but more importantly the number of 'active' listings (what you can buy) was down by 44% from last year. This number represents just over a half-month's supply. Still January sales were the second best on record.
Besides comparing the same month between years, we also like to look at the month-to-month change. For January 2022, sales were down by 6% from December. For January 2021, sales were lower by 4% from December. While the difference in changes is small, this may be the start of a pattern.
As anyone can tell you, this shortage of listings has led to a 33% increase in prices based on the Home Price Index. Going forward, our forecast is that we will not see a normal Spring Market. Prices will not continue to increase at current rates. Look for new Government legislation to be introduced by April which will cause the market to 'pause' for several months.
For sellers, now is the best time to list in 2022! For buyers, mortgage rates are starting to rise. So even if real estate prices were to drop marginally later in the year, the increase in rates would mean that mortgage payments would probably be higher. For buyers, trying to buy now may well be your best choice.
Looking at the overall condo market. Sales were lower by 18%. Downtown condo sales were 14% lower. Listing inventory is slightly higher than the overall market, but still less than a one-month's supply. While the condo market lagged the overall market in early 2021, it is now closely tracking the overall market.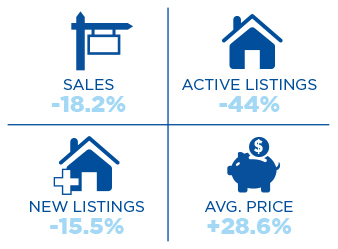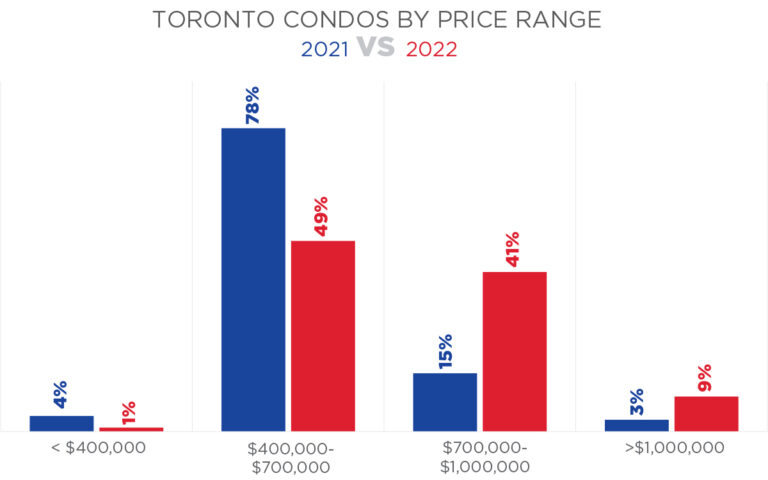 THE FUTURE OF THE CONDO MARKET
We have included a Graph that shows how prices have moved from January 2021 to January 2022. The disappearance of condo under $400,000 and the growth of condos over one million dollars is significant in such a short period of time.
The following Table (Table 2) shows what is available to buy Downtown in February by condo style with the corresponding average list price. Where do you fit in?
Rental Commentary 
There were 1347 downtown condo units leased in January. Currently there are just over 2,000 units available for lease, or just under a two month's supply. When you recall 2020, the supply numbers were in the 3-to-4-month range. We are now starting to see rental rates increase by 5+%. Also, the mix of leases is moving away from studios into larger units. In prime markets, get used to $1,500 per square foot.